About us
Kyowa is a medical equipment business firm. We think about our health in terms
of prevention. Focusing on not only treatment but also on prevention, we want to
be a company to enhance health.
About the history of the Medical Division which constitutes the backbone for our company, and
developments of our competitive advantage.
Kyowa started up a business in Aomori prefecture on late Showa, 1986. At the beginning, we did not
individual strength compared with the others and we made his round of medical institutions. We dealt in all
sorts of consumable goods as the medical materials, white coats, and surgical gowns, however, we are
frequently no match for competitors in an outright price war.

We gave a quick response to nighttime emergency for costumers' requests. By visiting the academic
research institutes, we attempted to improve knowledge about medical care, and we endeavored to be able
to bring doctors up to date.

In those days, larger equipment was usually purchased directly from the manufacturer. We could hear
authentic voices from many doctors by visiting the hospitals every day. They gradually relied on us, as a
consequence, we benefited from learning about the details of the medical equipment. We succeeded in
differentiating themselves from other competitors by plating a role as the coordinator.

We have an individual competitive advantage that can acquire more information from medical front and that
have a mutually trustworthy relationship. All these attitudes are just the code of conduct in our company.
Our attitude looking forward to future of medical care.
The patients have become the student of the disease in recent years. They rely not only on the doctor but
also on themselves. In process of time, we perceived a subtle change in consciousness of people, or the
change from "curing a specific disease" to "preventing a variety of illnesses." We felt that we should do our
utmost to cater to the contemporary needs.

Granting that to be market expansion of health appliances, some healthcare equipment being on sale
across the world seems to be less accurate. Tokyo acts as an information source.
We set up Environment Division on the just excellent location, Tokyo for the reason that we can keep up
with the latest trends by connected with many companies.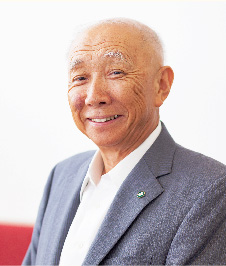 President
NOZATO, Hienae
Sponsorship
Yangon United F.C.

Yokohama F. Marinos
Japan Swimming
Club Association
Kanto Branch
Efforts
We support "The Act on Promotion of Women's Participation and
Advancement in the Workplace."
Corporate profile
Kyowa Medical Systems Co., LTD.
Head Quarters location
2-1-9 Kitahakusandai , Hachinohe-shi, Aomori-ken 039-1114 Japan
TEL:+81-178-27-1616 FAX:+81-178-27-0455
Date of establishment: February 5, 1986
Capital stock: 10 million
Annual sales: 21 billion
Executive team:
President: NOZATO, Hienae
Executive Vice President: ONODERA, Toshiya
Annual sales: \21 billion
Numbers of employees: 33 (as of October 31, 2016)
Branch, Office, Inspection Center:
Tokyo Branch, Towada Office, Hirosaki Office, Inspection Center (in Saitama-ken)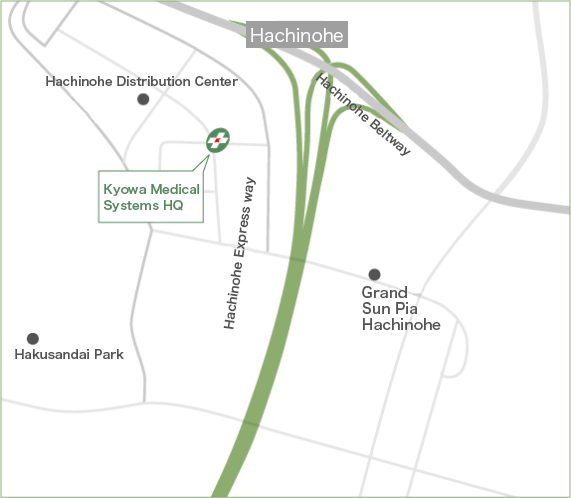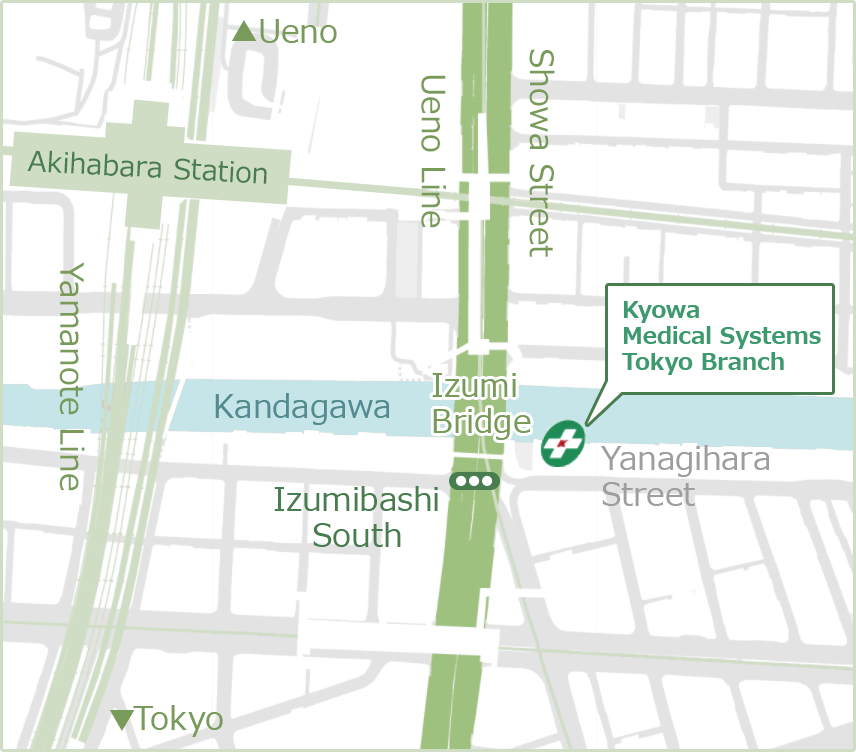 Tokyo Branch
Tokyo Branch President
ONODERA, Toshiya
Location
NS kyobashi Bldg, 5F 1-6-12
Kyobashi , Chuo-ku, Tokyo
104-0031 Japan
TEL:+81-3-6228-7244
FAX:+81-3-6228-72744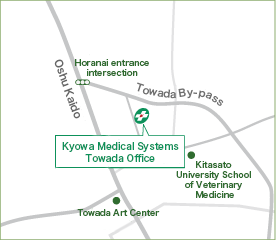 Towada Office
Kitatai147-945, Sambongi,
Towada-shi, Aomori,
034-0001, Japan
TEL:+81-176252727
FAX:+81-176252353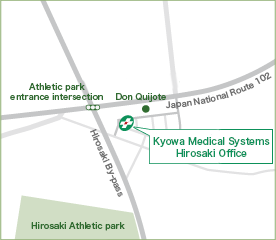 Hirosaki Office
5-6-2, Takada, Hirosaki-shi,
Aomori, 036-8084, Japan
TEL:+81-172292616
FAX:+81-172292617
Inspection Center
1858-1, Yamada, Kawagoe-shi,
Saitama, 350-0822, Japan
TEL:+81-492363917
FAX:+81-492363918
Corporate history
| | |
| --- | --- |
| 昭和61年02月 | (有)協和医療器として創業 |
| 昭和63年12月 | 十和田営業所開設 |
| 平成02年07月 | 資本金800万円とする |
| 平成03年08月 | 本社現在地へ新築移転 |
| 平成04年06月 | 資本金1,000万円とする |
| 平成04年08月 | (株)協和医療器に組織変更 代表取締役に野里稗苗 |
| 平成12年02月 | 弘前営業所開設 |
| 平成17年08月 | 十和田営業所新築移転 |
| 平成25年10月 | 東京支社開設 |
| 平成28年10月 | 検査センター開設 |
Organization chart

Contact